Letter #1

Dear Ronnie and Caro,
I had a FANTASTIC time in your section, "Chutney" this year. Costume collection was effortless. My costume looked like it was supposed to and I didn't need to alter even one thing on it. Food was as promised. Drinks flowed steady. I was really impressed to see Ronnie on the truck handling things in the bar as well on Monday.

The ONE problem I had was on Tuesday when one of your "security" was telling…sorry YELLING at me to get into my section (my pet peeve) when I was a mere foot away from the section. I watched him like he was mad and eventually one of the other security guys told him to leave me alone, cause like he realize what time it was with me.

The second problem I had (I know I said one before, but I just remembered something else) was the barmen. On Tuesday when my extra tall brother wasn't around I had to stand up by the bar and got ignored but not by one, not by two but THREE of your barmen. I had cause to cuss way one who play he telling me he eh see me even doh he watch meh STRAIGHT in meh damn face!
Anyhoo, Ronnie got that complaint from me on the road Tuesday and handle dat one time!

Despite that, my brother, sister I law and I look forward to seeing what you'll be bringing out next year. Thanks for a great first time with Legacy!

Yours in Carnival,
Afro Chic.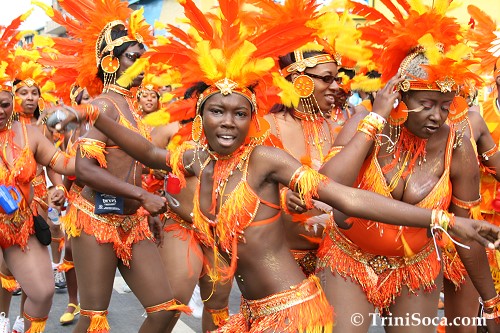 Letter #2
Dear Shurwayne,
I was to write you since before Carnival yuh know, but in between all de run around for stockings, accessories, boots etc, I just didn't have the time.
I just have one thing to tell you.
You killed my section's vibes on Carnival Tuesday
at our last competition point with yuh Open De Gate.
After signing up with Legacy, I had begun to mentally prepare myself to be brainwashed by Open de Gate on the road.
However, on Monday you were not around and our section became a smoothly choreographed machine to the tune of Jumbie.
Even at all the other competition points on Tuesday we did not cross with your truck. Our choice was Jumbie right through.
So is how you go come now and jumbie de scene with yuh Open de Gate nonsense? What is de point of dat? Yuh did done lose de Road March race…is like beating a dead horse.
Otherwise, on the road yuh wasn't too bad eh. But yuh kill it fuh we dey man.
Ohnonono,
Afro Chic
Letter#3
Dear Carnival,
I enjoyed you this year.
Stage or no stage I had a time yes.
See you next year, God spear life.
Lovingly yours,
Afro Chic